Looking for an easy way to manage bank accounts?
Since you're online with us right now, you already know how convenient E-Banking can be!
Personal Online Banking
Our basic Online Banking services are provided to our customers at no monthly fee.
Personal Online Banking Features:
Check account balances
View account history
View account details such as current interest rate
Run exportable account history reports via the Account Reporting feature
Download transactions (Quicken or CSV format)
Make transfers between FNB accounts
Set up recurring transfers
Make loan payments
View images of paid checks
Pay bills to new and existing payees
Enhanced Bill Pay
Pay other FNB customer
Request check stop payments
Reorder checks
Communicate via secure message with FNB representatives
View E-statements
Manage your FNB Debit cards
Set up security alerts
Nickname accounts, hide accounts, or reorder account display through settings
View breakdown of assets and liabilities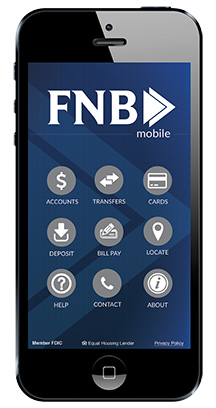 Personal FNB Mobile
FNB Mobile fits your lifestyle. Simply download the FNB Mobile App on your smart phone and have your account information at your fingertips. FNB Mobile provides all the convenient services you have through Online Banking and is available for both Android and iOS.
Personal Mobile Banking Features:
Check account balances
View account history
View account details such as current interest rate
Filter transactions by amount, date, or transaction type
Make transfers between FNB accounts
Set up recurring transfers
Make a loan payment
View images of paid checks
Pay bills to new and existing payees
Picture Pay
Pay other FNB customer
Request check stop payments
Reorder checks
Communicate via secure message with FNB representatives
View E-statements
Manage your FNB Debit cards
Set up security alerts
Nickname accounts, hide accounts, or reorder account display through settings
Biometric login for quick access